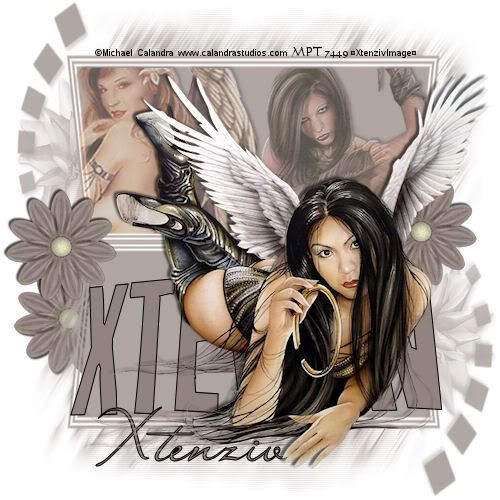 I am using 3 images of Micheal Calandra's beautiful artwork
You need a licence to use his art which can be purchased from
My Psp Tubes

Font: by Soft Horizons LainieDaySH

and Vinyl Stickons

ScrapElement: By XtenzivImage, using CU scripts by BlueBird Thank You!

HERE


Mask is zuzzanna_mask41 By Zuzzanna
Place this file in your masks folder.

This Tutorial was created using Corel's Paint Shop Pro® with the understanding
that you have a working knowledge of this program.
(I used PhotoX2 but you should have no trouble recreating it
with earlier versions of PSP)


Open a new image 500 X 500 transparent and flood fill white

Open Xtenz10PetalgreyPsP and paste as new layer Resize by 40%
then again by 80%

position flower on the left just below center.
apply a drop shadow I used V -4 H 2 Opac 50 Blurr 6

Duplicate this layer twice.

Add a new layer flood fill #b0a6a1, apply zuzzana_ mask 41 right
click on mask layer in your layers pallet Merge Group.

Move copy1 and 2 of your flower above your mask layer, and postion in the center on both sides

Using your selection tool freehand outline the top solid portion of the mask,Leave the marching ants selected (make sure you leave the white parts of the frame.)

Add 1 tube of choise as a New Layer move around so it shows in top right of your selection apply a drop shadow. I used V -4 H 2 Opac 50 Blurr 6

Make sure image layer is active layer, Selections invert and delete.

repeat this step for 2nd tube of choise. Once you have them in position deselect marching ants and merge the two layers.
Drop opacity down to 50%

Now, in the bottom solid portion of your mask add your name I used vinyl stickons Background #8a7d77 stroke width 1 forground color Black used my pick(deform)tool to deform it so it looked like she was laying on it.

Add main tube image and your drop shadow.

Add Copyrights and licence info your taggers watermark if any. Add your name again i used Lainie Day SH
size 80 same color settings as above.
Merge All Flatten and your done.



GREAT JOB!

THANK YOU SO MUCH FOR TRYING MY TUT!


This tutorial is my own creation. Any similarity to any other tut is coincidental and completely unintentional.

Please do not copy it, upload it to another website.
You may share the link to the blog or the tutorial page directly.


This tut was wrote Jan 21/2009 by M.E
☼XtenzivImage☼ ©2009 -All artwork used remains the copyright of the creators